The IMAGE Society, Inc.
May 2016
IMAGE OF THE MONTH

courtesy of

METAVR
An Associate Member
of the
IMAGE Society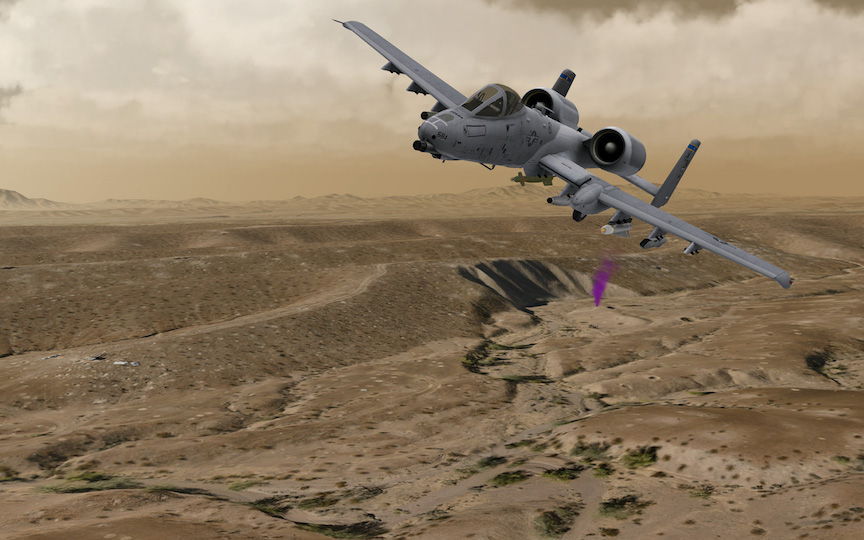 Click here to see the full size screenshot
The full size screenshot from MetaVR Virtual Reality Scene Generator
shows the detail at a resolution that is more representative of how
the virtual terrain would be viewed in simulators.

Virtual Yuma Proving Ground, Arizona
(at 2 cm Per Pixel Resolution)
This image shows a dynamic model of an A-10C aircraft (from MetaVR's military model library) in flight over 2 cm per-pixel resolution synthetic 3D terrain of the Prospect Square area of the U.S. Army Yuma Proving Ground (YPG), rendered in MetaVR's Virtual Reality Scene Generator (VRSG). The terrain was rendered at 60 Hz, with a far horizon of 100,000 meters and the 8,192 x 5,118 pixels screen capture was taken on a 4K monitor.

MetaVR recently delivered the high-resolution geospecific virtual terrain to the Special Operations Terminal Attack Controller Course (SOTACC) facility, Yuma, Arizona, for use in the facility's two-classroom setup of MetaVR and BSI's accredited desktop JTAC simulators during the four-week Joint Terminal Attack Controller (JTAC) qualification course.

The 2 cm per pixel resolution imagery that MetaVR used to build the virtual Prospect Square at YPG was captured by the company's portable UAV, MetaVRC. The portable UAV was built and flown by Swift Radioplanes in military controlled air space. With both the imagery and 2 meter elevation data, MetaVR compiled full-resolution (2 cm) terrain tiles of the area with MetaVR Terrain Tools for Esri ArcGIS. The total coverage area of this high resolution 2 cm terrain data set is 17 sq km and is an inset to a 30 cm per pixel imagery area covering 2,300 sq km of the Yuma Proving Ground.

At 2 cm resolution, details such as bullet-ridden vehicle targets, scrub grass, and small craters left from the impact of various munition types are visible on the terrain. This level of detail is important because the virtual terrain is used for simulated close air support exercises by SOTACC students prior to field training at the actual site.

The Prospect Square, Yuma Proving Ground, virtual terrain is part of MetaVR's terrain of Continental US plus Alaska and Hawaii (CONUS++) and is available to MetaVR customers on active software maintenance.
For more information contact:

W. Garth Smith
President and Co-Founder
MetaVR, Inc.
80 Somerset Road
Brookline, MA 02445
Tel: 617-739-2667
Email: wgsmith@metavr.com
Web Site: http://www.metavr.com
---
Instructions to Submit your JPEG/GIF file for Image of the Month
Copyright © 2016
The IMAGE Society, Inc.
All rights reserved.