May 2018
IMAGE OF THE MONTH

courtesy of

METAVR
An Associate Member
of the
IMAGE Society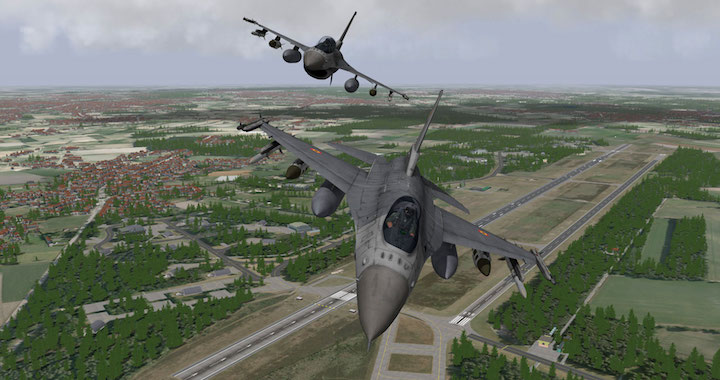 Click here to see the full size screenshot
The full size screenshot from MetaVR Virtual Reality Scene Generator
taken on a 4K monitor at 4096 x 2160 pixel resolution.

MetaVR's Virtual Kleine-Brogel Air Base
This image is a scene from MetaVR's Virtual Reality Scene Generator (VRSG) with two F-16 Belgian aircraft entities in flight over our newly built virtual Kleine-Brogel Air Base, Flanders, Belgium. The screen capture was taken on a 4K monitor at the full-size resolution of 4096 x 2160 pixels and is unaltered.

The geospecific 3D terrain was built in our round-earth Metadesic terrain format with MetaVR Terrain Tools for Esri ArcGIS from 10 cm per-pixel resolution source imagery of the air base blended into 40 cm imagery of the surrounding Flanders region. Elevation source data was DTED2. The air base culture includes a runway, taxiways, tarmacs, runway lights, signage, antennas, instruments, and several geospecific models of the control tower and other air base buildings. The air base models were built from publicly available photos and then geolocated on the terrain in VRSG Scenario Editor. The surrounding culture of 98,000 building models was generated in Esri CityEngine from OpenStreetMap data with emissive light-map textures for nighttime lighting, and 389,000 tree models. The terrain tiles contain built-in light points.

This real-time VRSG scene is running at 60 Hz with a 60-degree field-of-view and a 50 km far horizon. The F-16, vegetation, and air base models are from MetaVR's 3D content libraries in the forthcoming release of VRSG version 6.3. This release also features shadows cast on terrain by volumetric clouds and culture, as shown in the image. In addition, the lead aircraft shows self shadowing according to the sun orientation. This terrain will be used in F-16 full mission trainers by the Belgian and Portuguese European Participating Air Forces (EPAF) later this year.

VRSG is a real-time 3D image generator that provides the fidelity of geospecific simulation with game quality graphics. With real-world data, users can build high-performance virtual worlds with MetaVR's round-earth terrain generation tools and render them at 60Hz frame rates in VRSG.
TRADE MARKS:

Virtual Reality Scene Generator, VRSG, Metadesic.
REGISTRATION MARKS

: Esri, ArcGIS, Esri CityEngine.
For more information contact:

W. Garth Smith
President & Co-Founder
MetaVR, Inc.
80 Somerset Road
Brookline, MA 02445
Tel: 617-739-2667
Email: wgsmith@metavr.com
Web Site: http://www.metavr.com
---
Instructions to Submit your JPEG/GIF file for Image of the Month
Copyright 2018
The IMAGE Society, Inc.
All rights reserved.